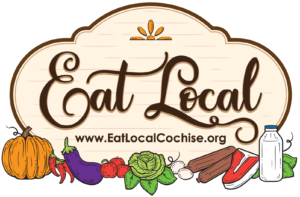 The goal of this project is to increase awareness of and action toward eating local food among Cochise County residents through various activities. We have worked to build awareness of local food options by connecting various stakeholders in our local food system, creating online directories of local food producers and markets, hosting of two county-wide "big reads," making available a variety of books on local food-related topics, providing materials to schools and kids in the county, and hosting a series of webinars and other community events.
This is project was originally begun as work of the Cochise County Library District and has continued as a community-based project.
Partners in this work have included the University of Arizona Cooperative Extension, the Sierra Vista Farmers Market, the Copper Queen Library (Bisbee), the Benson Public Library, the Douglas Public Library, the Elsie S. Hogan Community Library (Willcox), the Huachuca City Library, the Huachuca City Community Garden, the Healthy Food Forum, and K12 Handhelds.
If you are interested in being a part of this work, contact us.
This project was initially supported by the Arizona State Library, Archives & Public Records, a division of the Secretary of State, with federal funds from the Institute of Museum and Library Services.