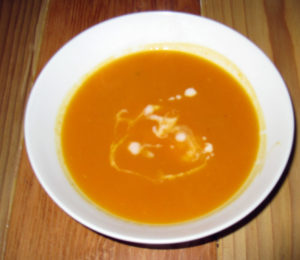 Butternut squash soup
Ingredients:
Butternut squash, about 2 pounds
Olive oil
Salt and pepper
2 cloves garlic, minced
1 teaspoon cinnamon
1 teaspoon ground ginger
1 cup orange juice
3 cups vegetable broth or bullion
Directions:
Preheat the oven to 375 degrees. Slice the squash in half long ways, remove the seeds, brush the cut surfaces with oil, and sprinkle with salt and pepper. Bake cut side down on a sheet pan until soft, 30-40 minutes.
Cool, and then scoop out the flesh and measure 2 cups.
In a large soup pan, put 3 tablespoons of olive oil and minced garlic. Cook until garlic is soft.
Add cinnamon and ginger to garlic. Cook 1 minute or until aromatic.
Add roasted squash, orange juice, and broth. Simmer for 20 minutes.
Puree soup with an immersion blender or in a blender. (Be careful and let soup cool first!)
Heat pureed soup until hot. Add salt and pepper to taste. Top with a small spoon of sour cream and/or pesto if you like, and serve.