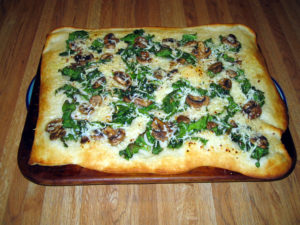 Pizza dough
Ingredients:
1/2 cup warm water (at least 105 degrees)
1 envelope active dry yeast
1-1/4 cup water, room temperature
2 tablespoons olive oil
4 cups bread flour (You can also use regular white flour or 3 cups of white and 1 cup of wheat flour.)
1-1/2 teaspoons salt
Directions:
Sprinkle yeast into warm water. Let sit 5 minutes or so until yeast dissolves and swells. Mix in oil and room temperature water.
Mix flour and salt in a large bowl. Gradually add yeast and water mixture. Mix until smooth. (You can use a food processor or a large wooden spoon.)
Knead dough for 8-10 minutes or until smooth.
Put dough in an oiled bowl, cover, and let rise until doubled in size (2 hours or less, especially if it is warm).
Punch dough down. Divide as necessary. (Dough can also be frozen at this point. Let come to room temperature before rolling out.) Roll out into a pizza.
---
Pizza toppings
Sauce: You can use a standard marinara sauce, a white béchamel sauce (perhaps mixed with pesto or parmesan cheese), pesto, black olive or tomato tapenade, or just olive oil.
Toppings:
Standard pizza toppings include veggies, sausage, pepperoni, and cheese (typically mozzarella, but consider other choices like gouda, brie, or goat cheese.)
Some other interesting variations include:
Potato pizza – Brush the crust with olive oil (no other sauce) and then layer on very thinly sliced potatoes and sautéed onions (optional). Drizzle with olive oil, and sprinkle on salt, pepper, and rosemary (optional).
Apple cheddar — Brush the crust with olive oil (no other sauce) and then layer on a mix of lightly sauteed, sliced apples and sage. Sprinkle on shredded cheddar cheese.
Salad pizza – Choose a light sauce (or even just olive oil) and optionally, include a light layer of cheese. After the pizza is baked, heap on salad greens. Baby greens or arugula are particularly nice.
Breakfast pizza – Cream cheese, scrambled eggs and thin sliced fresh tomatoes. Yum!
---
Baking
When you are ready to bake your pizza, preheat the oven to 450 degrees. You can bake the pizza on a stone, a pizza pan, or a cookie sheet. At this temperature, the pizza will cook quickly so keep an eye on it!