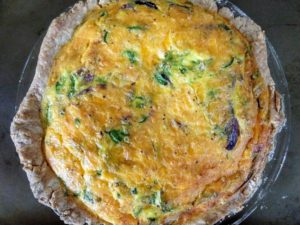 Quiche
Ingredients:
One pie crust (recipe below or use other)
Milk (see below)
Eggs (see below)
Salt, pepper, nutmeg (optional)
Other fillings (see below)
Milk and eggs:
In general, use ½ cup milk for every 2 eggs.
The total amount you need will depend on the size of the quiche and the amount of filling. For a small, 6" quiche, use approximately ½ cup of milk and 2 eggs. For an 8-9" pie-sized quiche, use approximately 1-1/2 cups of milk with 6 eggs.
Variations:
Use half-and-half instead of milk for a richer, more custardy quiche.
Use slightly more milk for a lighter, fluffier quiche.
Other fillings:
Vegetables (After cooking, make sure to drain or squeeze out extra water.)

Spinach (sautéed or fresh)
Broccoli (steamed or fresh)
Cauliflower (parboiled)
Zucchini (sautéed – especially good with sun dried tomatoes, onions, and basil)
Onions (sautéed)
Garlic

Meats (cook first)
Cheese
Directions:
Roll out pie crust and put in a pie tin.
Prepare fillings and place in pie shell.
Sprinkle most of cheese over the other fillings. (Reserve a small amount to sprinkle on top.)
Whisk eggs and milk well. (You shouldn't see any separation of egg yellows or whites.) Add salt, pepper, and nutmeg if desired.
Pour mixture into pie shell. Liquid should fill the shell about 2/3 of the way. (The mixture will expand so you may want to put the pie pan on a cookie sheet in case it overflows.)
Preheat oven and bake at 375 degrees. Cooking time will vary depending on the fillings, but will take approximately 35-45 minutes. You can tell the quiche is done when the filling is set (not jiggly) and the top is lightly browned.
---
Goat's Milk Pie Crust
This recipe makes 5 pie crusts. It's easy to make, and the dough will stay flaky and nice no matter how much you handle it. After making the dough, you can freeze it for later use.
Ingredients:
4 cups unsifted flour (You can use all white flour or half white and half wheat flour.)
1 tablespoon honey
2 teaspoons salt
1 3/4 cups shortening (I use butter.)
1 tablespoon white or cider vinegar
1 large egg
1/2 cup goat milk (You can also use regular milk.)
Directions:
Mix the flour and salt together in a large bowl.
Add shortening and cut in until ingredients are crumbly.
In another small bowl, beat together milk, vinegar, honey, and egg.
Combine the two mixtures and stir with a fork until all ingredients are moistened.
Divide the resulting dough into 5 balls.
From here, you can freeze the balls of dough, refrigerate them, or roll them out into pie crusts. If you freeze or refrigerate, let the dough come up to room temperature before rolling it out.