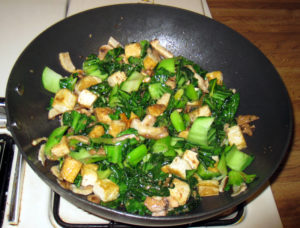 Stir fried vegetables    
Ingredients:
Vegetables (You can use a wide variety of types of vegetables for this, including carrots, broccoli, bok choy, and most any kind of greens, including chard, tat soi, collards, spinach, etc. As you try different combinations, you will get a feel for what you like best.)
(optional) tofu, seitan, or chicken
Oil (peanut, vegetable, or olive)
2-3 cloves of minced garlic
Minced ginger (optional)
Red pepper flakes (optional)
Soy sauce
Sesame seeds (optional)
Rice
Directions:
Wash and cut up all the vegetables. For root vegetables that need more cooking, like carrots, cut into a fine dice. For things like broccoli and cauliflower, cut into bite size pieces. For greens, roll the leaves into a cigar-like tube and cut into 1/4" thick strips. (This is called a chiffonade.)
Prepare rice according to the package directions. You'll serve the stir fry on top of this.
Make sure all of your vegetables and other ingredients are prepped and ready, because the next steps will go quickly.
Heat a large frying pan or wok with oil on the stove to medium high.
(optional) If you are using it, stir fry tofu, seitan, or chicken. Remove from pan and set aside.
Add 2-3 cloves of garlic, and garlic and red pepper if you are using it, to the frying pan, stirring constantly with a pancake turner.
When the garlic is fragrant and soft but not yet browned, add the other vegetables. Add carrots or other veggies first, because they will need to cook longer. Stir often. Then add the other vegetables. Things like greens won't need to cook long, just until they are dark green and wilted.
Be careful not to cook the veggies too long, and when they are done, add a few good splashes of soy sauce. Stir well and remove from the heat.
Serve veggies (and optional tofu, seitan, or chicken) over rice with a sprinkling of sesame seeds.